readme.md
Citlali is the Nahuatl word for "star". This is a simple, colorful and beautiful multipurpose HTML/CSS template by OpenThemes.com.
Citlali is a fully responsive template that uses the Bootstrap and jQuery frameworks.
Features
Full responsive layout.
Color modes. Eg. Dark mode.
Design for home, single post, categories and error 404 page.
Locally hosted fonts.
RTL support. See Bootstrap documentation.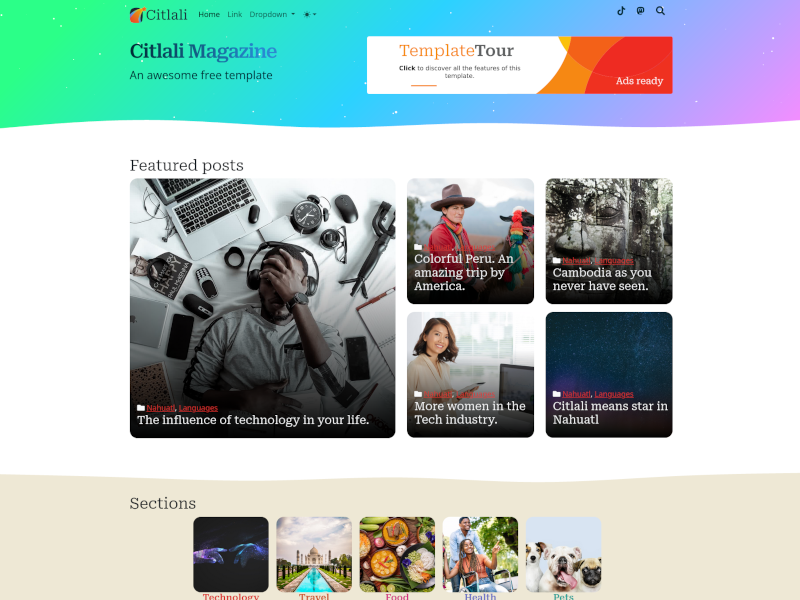 Download and Installation
Clone the repo: git clone https://codeberg.org/OpenThemes/Citlali-CSS-Template.git
Download the latest version at OpenThemes.
Copyright and License
Code released under GPLv2 or later.
Fontawesome 5.15.4 License: SIL OFL 1.1 URL: http://scripts.sil.org/OFL
Bootstrap 5.3 CSS Framework License: MIT URL: https://github.com/twbs/bootstrap/blob/main/LICENSE
jQuery 3.5.1 License: MIT URL: https://jquery.org/license
Particles jQuery plugin License: MIT URL: https://github.com/marcbruederlin/particles.js/blob/master/LICENSE
Open Sans License: SIL Open Font License, Apache License 2.0 URL: https://scripts.sil.org/ofl, https://www.apache.org/licenses
Roboto Serif License: Apache License URL: https://www.apache.org/licenses
Demostration images
https://www.freepik.com/free-photo/beauty-portrait-afro-woman-with-ethnic-makeup_13912462.htm https://www.freepik.com/free-photo/buddha-faces-angkor-thom-siem-reap-cambodia_3276311.htm https://www.pexels.com/photo/woman-in-red-leather-jacket-and-black-skirt-with-black-hat-standing-on-green-grass-field-5270672/ https://www.freepik.com/free-photo/successful-businesswoman-office_5577405.htm https://www.pexels.com/photo/man-wearing-black-headset-3345882/ https://www.freepik.com/free-vector/404-error-lost-space-concept-illustration_20602747.htm https://www.freepik.com/free-vector/shooting-star-logo_1132055.htm